Ellen Hanak is the director of the PPIC Water Policy Center at the Public Policy Institute of California.  She has authored dozens of reports, articles, and books on water policy, including Managing California's Water and, most recently, What If California's Drought Continues? She spoke to AZoCleanTech about the ongoing California drought, and its lessons for a changing climate.
JW: Can you explain the consequences of the recent drought in California?
EH: California has a highly variable climate—we have the most variable rainfall in the nation. Multi-year droughts are a common feature, occurring every 15 to 40 years, so we have to be able to manage them.
This particular drought is quite a serious one; we've had three of the driest years in our history, and exceptional warmth. The past two winters set records that were 2-3 degrees C above average. This resulted in record-low snowpack, since much precipitation fell as rain rather than snow. The result is water scarcity that is affecting urban and agricultural water users throughout the state.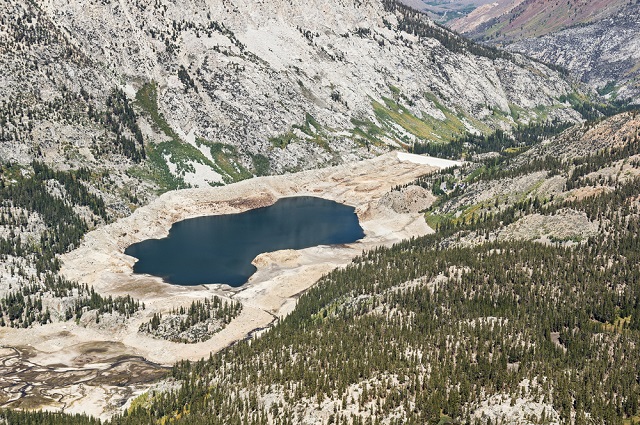 Low water levels at South Lake Resevior, California. Tom Grundy | Shutterstock
Disadvantaged rural communities have been hard hit, because shallow drinking water wells have been going dry. Low flows and high temperatures are also stressing wetland and river ecosystems and the fish and wildlife that depend on them.
There's no one cause for a drought, and the origins of this one are being studied and debated by climatologists and oceanographers. While we still don't know exactly what caused it or when this drought will end, we do know it will end.
In the meantime, it is prudent to continue to manage our scarce water carefully. Our recent report What If California's Drought Continues? projects major impacts if the drought continues for two or three more years, and lays out where we'll need to improve our drought response if it does.
JW: What measures are being taken to combat this drought?
EH: Because droughts are a regular feature in our climate, we've gotten better at some aspects of drought management—especially urban water systems, which have invested in improving water supply and management since the last big drought of 1987-92. Urban areas have invested in groundwater and surface storage, and diversified their supplies—for example by expanding the use of recycled wastewater. And people are getting more efficient about water use, with low-flow plumbing fixtures and appliances and changing behavior.
Even though we have added eight million people since the last drought, total urban water use is about the same due to significant declines in per-capita water use. Many cities have built interconnections to other systems, which allows for emergency water sharing. This linking of systems takes advantage of the fact that some water sources will be more effective than others during drought.
JW: What effect has the drought had on California's population?
EH: Most urban and suburban residents haven't experienced severe water shortages, but the drought has raised their awareness and they are saving water.
In a recent survey we conducted, the drought was listed as the most important problem the state is facing. Water conservation has increased, especially since a water savings mandate in spring 2015 that requires cities to reduce per capita use by an average of 25%.
I think we will see some lasting changes in water use for urban landscaping, which still accounts for roughly half of urban water use. Homeowners are being paid to replace thirsty lawns with more drought-tolerant plants, and being encouraged or, in some cases, penalized to reduce outdoor watering.
The people that are really being hit hardest by water shortages are residents in small rural communities, where shallow wells are going dry. State and county officials and non-profit groups have been working hard to get drinking water to these folks, but so far mainly through temporary measures, like hauling in water for storage tanks.
JW: How has the drought affected the agricultural sector?
EH: California is an agricultural powerhouse.  We have good soils and sunshine, and because it generally doesn't rain during the growing season, we can irrigate at the right place and time and grow a tremendous variety of high-quality crops. But the sheer size of the sector makes it vulnerable to droughts. Our 3.6 hectares of irrigated cropland uses about four times more water than all cities and suburbs combined.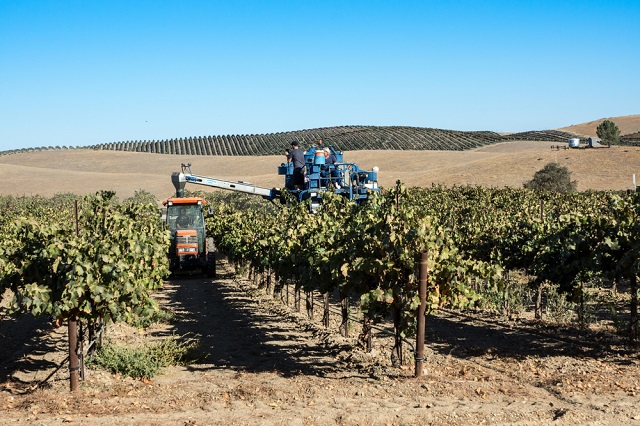 A vineyard in Pablo Robles, California. James Mattil | Shutterstock
EH: Fortunately, farmers have been able to pump groundwater to make up for cuts in surface water deliveries. They have also traded water to get it to where it's most needed. But they still had to fallow some land.
Our colleagues at UC Davis estimate that farmers will fallow more than 220,000 hectares each year the drought continues. Farmers tend to fallow the least-productive fields and crops first – including grains and hay – and focus their available water on crops like fruits, nuts and vegetables.
All of these adjustments are limiting the economic impacts of drought on the farm sector so far, but many are worried about the consequences of additional groundwater pumping on long-term sustainability of the sector.
JW: Has the drought affected wildlife too?
EH: Yes—this is one of our most difficult water challenges, and one that involves hard trade-offs. The environment is least able to adapt to drought, and it's been hit really hard. Farms and cities can pump extra groundwater to survive a drought, but wildlife and ecosystems don't have that option. Wildlife managers in the state are really struggling.
If the drought continues for another two or three years, the biggest challenge will be the conservation of native freshwater fishes: as many as 18 native fishes – including most salmon runs – could go extinct. To avoid this outcome, there are steps we can take, including allocating water to improve habitat in strategic locations, relocating some fish, restoring spawning habitat, and improving access of fish to spawning and rearing areas.
We also need to establish more hatcheries designed to maintain biodiversity as an emergency measure when fish are likely to go extinct in the wild.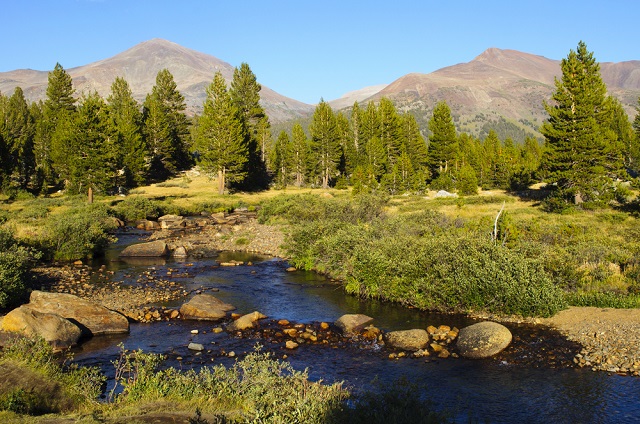 Yosemite National Park, California. Kara Jade | Shutterstock
Migratory birds are another concern, as wetlands are dry and the kind of farmland that can support them, such as rice, is in shorter supply during the drought. Boosting wetland habitat—by paying farmers to temporarily flood fields at key times—could reduce risks to waterbirds.
Some land-based species are feeling the heat, too; there's a growing problem of bears moving into towns as their food and water sources dry up in their habitat. And there's an ecosystem crisis in California's vast forests.
The hot, dry conditions are causing unprecedented tree die-offs and raising the risks of massive wildfires that burn so hot they risk permanent destruction of conifer forest ecosystems.  Addressing this problem requires implementing longer term programs to reduce forest densities.
Longer term, we need a drought management plan for the environment, and funding to put it into action.
JW: What reforms have been implemented to ensure more sustainable management of water in California?
EH: Droughts, like any other natural disaster, can be a catalyst for change, and this drought has been no exception. In 2014 the California Legislature passed the most comprehensive groundwater legislation in state history—the Sustainable Groundwater Management Act.  In that same year the voters passed a new bond bill that provides $7.5 billion for expanding water supplies, promoting conservation, and improving ecosystems.
An emergency state task force brings together all the relevant agencies in weekly meetings, and this is improving coordination of our drought response. As this drought continues, and hopefully also afterwards, there will likely be many new proposals to improve our drought resilience.
JW: How do you believe the federal government could help with this problem?
EH: With colleagues from several universities, we've come up with 10 things the federal government can do to help California get through this drought and better prepare for future droughts. For example, we are calling for the federal government to develop and implement a drought biodiversity strategy. The Australians made great strides in ecosystem management by taking this route during their decade-long Millennium Drought.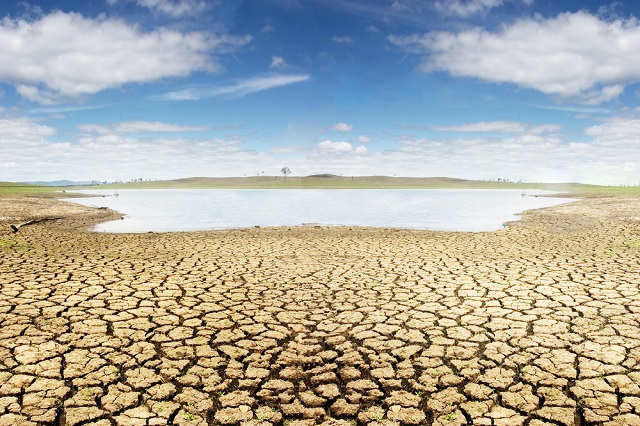 A dried lake near Brisbane during the Australian Millenium Drought. Creativa Images | Shutterstock  
Expediting emergency listings of species threatened with extinction and creating new sources of funding for environmental restoration to build drought resilience would also help. We also call for allowing farmers to have "carry-over storage" in federal reservoirs as a hedge against future drought conditions, and to discourage potentially wasteful "use it or lose it" behavior, which can result in lower reservoir levels.
We also call for increased federal support for improved water information systems, and for improvements to water marketing in federal water projects.
JW: What part has climate change played in the ongoing drought?
EH: It's difficult to attribute this drought—or any specific weather pattern—to climate change, which generally is a long-term shift in conditions. This drought's precipitation levels fall in the range of natural variability. That said, its consecutive years of dryness coupled with high temperatures strongly resemble the kind of droughts that are we can expect to have under a warmer climate.
As hard as it is to endure, this drought provides us with important lessons on how we manage water in the future. As it unfolds, it tests the resiliency of California's water infrastructure—made up of dams, aqueducts, and groundwater basins—along with our management systems and institutions.
Several issues still need more attention if we're to become better adapted to a changing climate. At the top of that list is better groundwater management (so that groundwater can remain a drought reserve in future droughts) and improving the resilience of our riverine, wetland, and forest ecosystems.
Ellen Hanak is director of the PPIC Water Policy Center and a senior fellow at the Public Policy Institute of California.
Under her leadership, the center has become a critical source of information and guidance for natural resource management in California.
Her research is frequently profiled in the national media, and she participates in briefings, conferences, and interviews throughout the nation and around the world.
Before joining PPIC, she held positions with the French agricultural research system, the President's Council of Economic Advisers, and the World Bank.
She holds a PhD in economics from the University of Maryland.
Disclaimer: The views expressed here are those of the interviewee and do not necessarily represent the views of the owner and operator of this website. This disclaimer forms part of the Terms and conditions of use of this website.