Gunfire and explosions are heard as the head of Zimbabwe's defence forces denies "a military takeover of the government".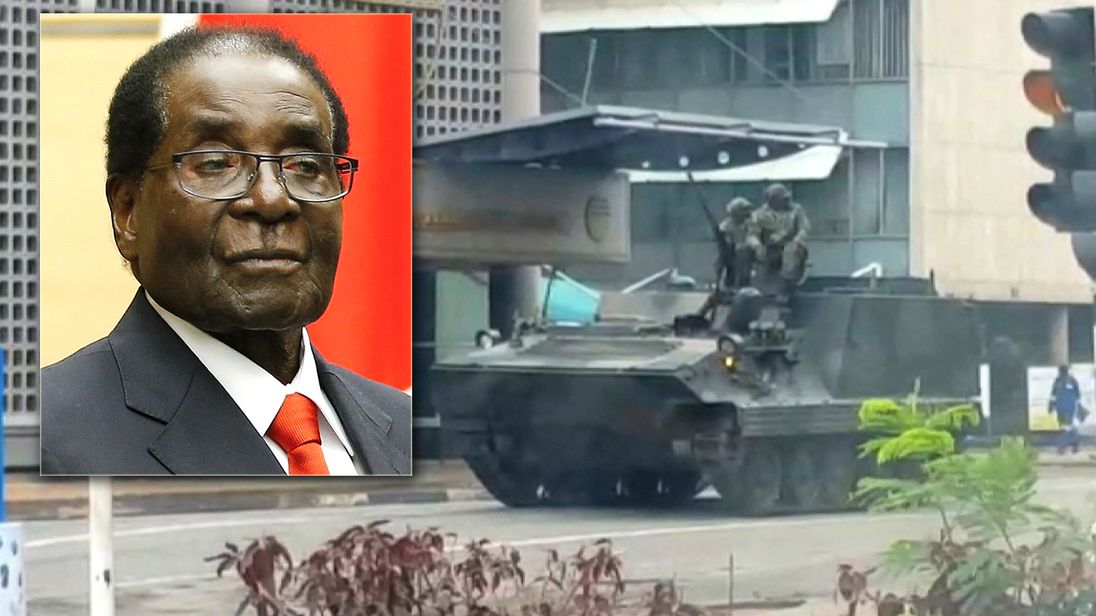 The army say Zimbabwe's president Robert Mugabe is "safe" after gunfire was heard near his compound and troops seized control of the state broadcaster.
Loud explosions were heard in Harare in the early hours of Wednesday after military vehicles rolled into the capital, prompting speculation of a coup.
The blasts and gunfire came hours after a military chief warned the army could "step in" amid a political crisis sparked by 93-year-old Mr Mugabe firing his vice president – and likely successor – Emmerson Mnangagwa earlier this month.
General Constantino Chiwenga, commmander of Zimbabwe's defence forces, had demanded an end to a purge in the ruling ZANU-PF party – which appeared to be paving the way for Mr Mugabe's 52-year-old wife Grace to succeed him.
In a statement read on state TV, a member of the armed forces told the Zimbabwean people: "Comrade Mugabe and his family are safe and sound and their security is guaranteed.
"We are only targeting criminals around him who are committing crimes that are causing social and economic suffering in the country, in order to bring them to justice."
General Chiwenga – who Mr Mugabe had accused of treason for his intervention – spoke on national radio.
He said: "To both our people and the world beyond our borders, we wish to make it abundantly clear that this is not a military takeover of government.
"What the defence forces are doing is to pacify a degenerating political social and economic situation in our country, which if not addressed may result in a violent conflict."
Due to the uncertain situation in Harare, incl. reports of unusual military activity, we advise British nationals in the city to stay safely at home/indoors until the situation becomes clearer. Monitor this account for updates.

— UKinZimbabwe (@UKinZimbabwe) November 15, 2017
He said all military leave had been cancelled – ordering members of the armed forces to return to their barracks.
He appealed to war veterans and tribal leaders for support and issued a veiled threat to the country's security services, telling them: "We urge you to co-operate for the good of our country."
It is unclear where Mr Mugabe and his wife Grace are being held.
Supporters of the Zimbabwean military have insisted it is a "bloodless correction of gross abuse of power".
Chris Mutsvangwa, chairman of the war veterans' association, said the military will return Zimbabwe to "genuine democracy" and make it a "modern model nation".
A Foreign Office spokesperson said: "We are aware of reports of military vehicles moving on the outskirts of Harare. We are monitoring the situation closely and keeping travel advice under regular review.
"We advise any British national in Zimbabwe who may be concerned to monitor our travel advice for changes."
The US State Department urged its citizens to shelter in place during the crisis.
Image:





Image:





Image:





Image:





Image:




Mr Mnangagwa, 75, a veteran of the liberation wars, fled to South Africa after he was ousted on 6 November – with President Mugabe accusing him of plotting against the government.
Mr Mugabe is the only leader Zimbabwe has known in 37 years of independence.
News agencies have reported several military vehicles stationed at key locations across the capital Harare.
Mrs Mugabe, 52, has a strong following in the powerful youth wing of ZANU-PF.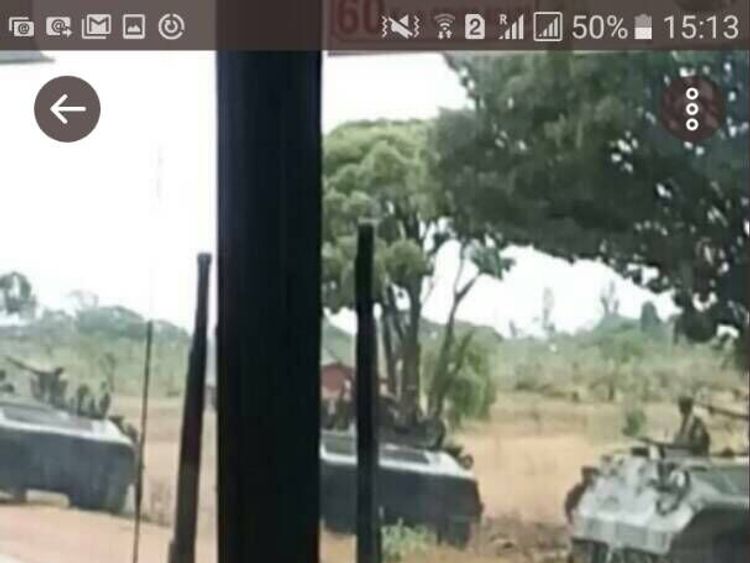 Her rise has been seen as a challenge to the dominance of the independence-era war veterans, who previously held privileged positions in the ruling party under Mr Mugabe.
The veterans, some of who took part in the civil war in the former British colony, have increasingly been prevented from holding senior government and party roles in recent years.