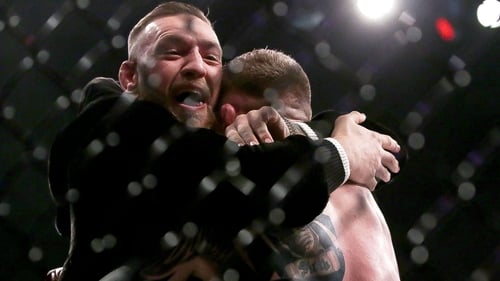 Conor McGregor faces an anxious wait to discover the repercussions of an ugly flashpoint with a referee at the Bellator 187 event in Dublin last night.
McGregor was watching his Straight Blast Gym team-mate Charlie Ward's fight with John Redmond at the 3 Arena and leapt into the cage after Ward put his opponent to his knees with a big first-round right-hander.
The multi-weight MMA champion charged at Ward in celebration, at which point official Marc Goddard attempted to pull him away.
McGregor was not a licensed cornerman, but even if he was, you are only permitted to enter the cage at the referee's discretion. 
The 29-year-old reacted furiously to the reprimand, pushing Goddard and aggressively shouting insults.
The fight was regulated by the Mohegan Commission, not a state commission but widely respected. As outlined by MMAFighting.com journalist Luke Thomas, there's the possibility that other commissions could enforce any suspension handed out, and in a domino effect McGregor could be restricted from fighting anywhere within the confines of the UFC. That ban could even extend to boxing. 
McGregor had planned to return to action in Las Vegas before the end of the year but if he's handed a suspension, and the Nevada Commission adheres to it, those plans will go out the window.
The Irishman is still yet to defend to the UFC Lightweight title he won a year ago.
Three years ago, Jason High was cut completely from the UFC for pushing referee Kevin Mulhall following his TKO loss against Rafael dos Anjos in New Mexico.
Madness in Dublin thanks to @TheNotoriousMMA!!! DO NOT miss #Bellator187 TONIGHT on @spike 9/8c pic.twitter.com/BGWcOBDvFb

— Bellator MMA (@BellatorMMA) November 10, 2017
Last year, Roy Nelson was banned for nine months when he kicked referee John McCarthy because he felt he took too long to stop his fight against Antonio Silva, a fight Nelson won.
On Saturday, Goddard tweeted: "I operate with integrity, belief and values. I hold MMA in a deep-rooted place in my life and have considered myself most fortunate to have done so for so long. Family first. Everything else second. Respect."
It's not the first time McGregor has got himself into hot water in a watching brief.
Last month, Goddard gave the Dubliner a formal warning for walking around the cage during the fight of another team-mate,  Artem Lobov, at a UFC Fight Night event in Poland.