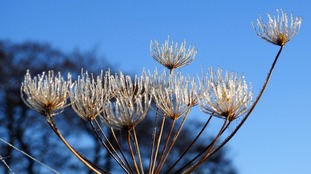 Sunny for many on Sunday, but a widespread frost to follow under clearer skies and arctic air
SATURDAY DAY:
Skies soon to clear after a grey and wet start. Dry and bright but chilly. Some cloud may linger across southern parts of the region. Lighter winds with temperatures struggling to get to 9°C.
SATURDAY NIGHT:
Staying clear and cold for many areas but some showers may affect coastal areas through the early hours. A frost likely in shelter from the freshening wind by dawn. Lows 1 °C.
SUNDAY:
After a patchy frost inland in shelter, with some coastal showers, another clear, cold and sunny day across most parts of the region. It will be feel bitterly cold in the wind, especially around the coasts. Highs 8°C but feeling more like 2-4°C