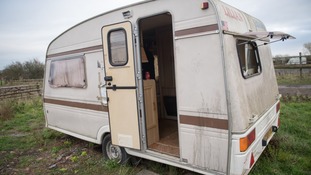 Police say they have rescued five men who they believe were being used as modern day slaves in Northamptonshire.
Raids were carried out at three travellers' sites, at Justin Park near Market Harborough, Greenfields in Braybrooke, and Lower Ecton Lane in Northampton.
Four Romanians and one Pole found living in extremely poor conditions are now being looked after.
Four men and one woman have been arrested on suspicion of modern slavery offences.
Det Chief Supt Kate Meynell said: "Our primary aim today was to safeguard individuals who we strongly suspected were being used as modern day slaves and made to live in extremely poor conditions.
"Modern slavery takes many forms and in this case it is labour exploitation with victims made to work extremely long hours for minimal pay.
"They receive no training, pay no taxes or insurance and remain extremely vulnerable."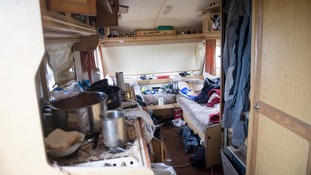 Det Chief Supt Kate Meynell added: "With the support of colleagues from the National Crime Agency, who have great experience dealing with this emerging threat, we executed a fast-moving operation today which has protected those very vulnerable people from harm and resulted in the arrests of at least four people.
"Northamptonshire Police treats modern slavery extremely seriously and operations such as this send out a clear message to those involved in labour exploitation that we will find you."