The only country in the Western Hemisphere without a national army, Costa Rica is a relatively peaceful and prosperous nation that boasts tourism as its No. 1 industry.
Costa Rica spans the isthmus of Central America. It has tropical coastal plains, mountainous areas and a temperate central plateau where the majority of the population is located. Costa Ricans have enjoyed a contiguous democratic government for more than 100 years. This stability combined with relative affluence distinguishes Costa Rica from its Central American neighbors.
Traditionally, the Costa Rican economy has been based on tropical agricultural products, such as coffee, bananas and sugar. However, the tourism industry has been growing rapidly in recent years, particularly the niche of ecotourism. The country has also been developing robust medical device and microprocessor industries.
Costa Rica and its more volatile neighbor to the north of Nicaragua are inextricably linked, with Nicaraguans making up around 75 percent of immigrants to Costa Rica. The two nations have regular disputes that often center on territory, particularly the San Juan River and the northern tip of Calero Island, which is located in the river.
The legacy of decades of deforestation is often cited as one of the main environmental issues facing Costa Rica. Agriculture, settlements and infrastructure projects all demands vast tracts of forest be cleared and in 1996, Costa Rica passed a ban on the razing of mature forests.
Recent studies have shown that Costa Rican agriculture has been able to thrive with this ban in place and the country is currently among the most effective in the world in combating deforestation.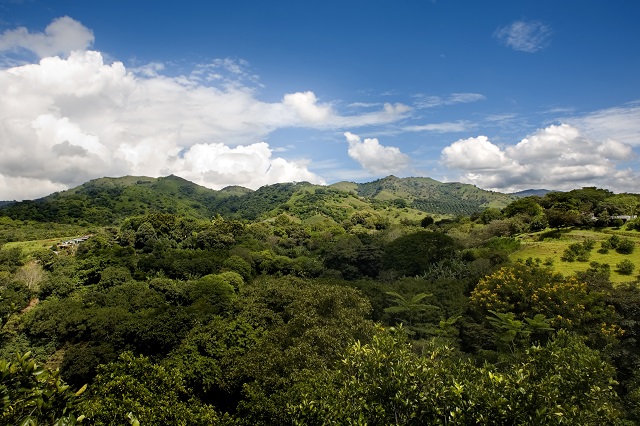 Costa Rica's lush rainforests were under threat from deforestation during the 1990s
Image credit: hagit berkovich / Shutterstock.com
As is often the case with other nations, Costa Rica's political disputes have had ecological impacts. The country's ongoing quarrel with Nicaragua over Calero Island reached a boiling point in 2010 as the Nicaraguans dredged the San Juan River near the island – dumping massive amounts of sediment into the island's wetlands. A 2014 assessment indicated that some of the damage caused is irreversible.
Despite its prosperity, Costa Rica has had difficulty combating poachers and illicit hunting activities. Illegal shark finning occurs often in Costa Rican waters. Many coastal residents also raid the nests of endangered leatherback sea turtles and sell the eggs as a delicacy.
Being stable and prosperous, Costa Rica is often praised and ranked among the world leaders when it comes to tackling environmental issues.
Costa Rica is considered among the most progressive nations on Earth with respect to climate change. In 2010, departing president Óscar Arias announced that Costa Rica would become the world's first carbon-neutral country by 2021.
Costa Rica: World Leader for the Environment
Video credit: Latin America and the Caribbean / YouTube
Costa Rica has also evolved its environmental policy: from one focused on conservation to one of sustainable development. In a case study article for Yale University's Environmental Performance Index project, former environmental minister Carlos Manuel Rodriguez noted that he used the EPI to inform his country's environmental policies.
"I believe that our initiatives to put taxes on water discharges and regulate inefficient fossil fuel consumption owe their success to the EPI," Rodriguez wrote. "With the EPI, I was able to prove that the most competitive nations were precisely those with high environmental standards."
The former minister added that Costa Rica continues to use the EPI as a tool to inform its environmental policies.
Costa Rica marked a major clean technology milestone in 2015 when it was powered for the first 75 days of that year by renewable energy.
According to a statement from the state-owned Costa Rican Electricity Institute (ICE), the Central American nation used a combination of hydropower and geothermal to meet its electricity needs for the first two-and-a-half months of 2015. Officials said heavy rains allowed them to generate a large amount of hydropower. The country relies on diesel as a backup source of power generation during drier times.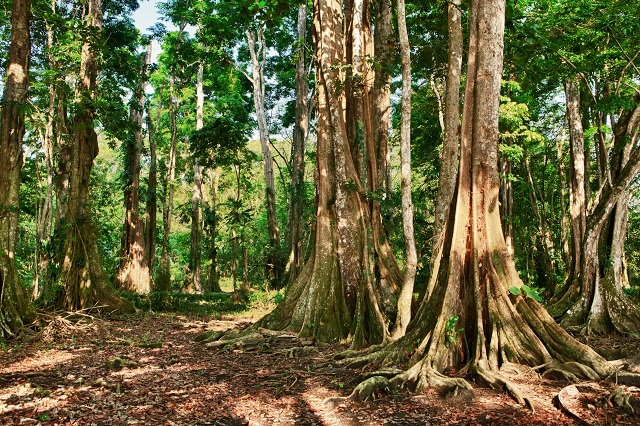 Costa Rica boasts a whopping 51% of its land covered by forestland
Image credit: hagit berkovich / Shutterstock.com
While hydropower and geothermal are the main pillars supporting Costa Rica's renewable energy efforts, the country has also been stepping up its solar and wind power installation. With a little help from the United Nations Development Program, Costa Rica has been able to bring power to remote villages through solar panels. In November 2014, the country's first wind farm went online.
In addition to the installation and use of renewable power technology, Costa Rica also has numerous programs that send students to the United States and other countries to study renewable energy. Many American universities have exchange programs set up that involve students and renewable energy experts to travel down to Costa Rica for their studies.
With a prosperous society, relatively small size and progressive government, it appears that Costa Rica has a very clean future ahead of it. The country is aiming to become carbon neutral within the next five or six years and many experts have said it will likely hit that target.
Follow Brett on Twitter for more of his work – @ParkstBrett