Money spent, money invested and money to be made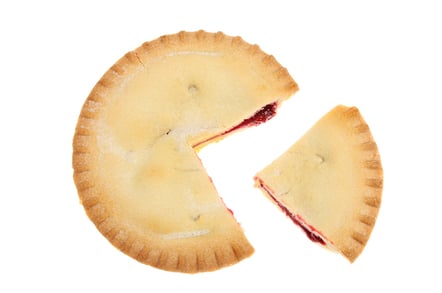 Business – it's all about making bigger pies, either by buying in pie and adding it to your own, building a new pie-making plant, or supplying your filling as part of somebody else's pie. Which brings us to Barracuda, Toshiba and WANdiso plus a few short news bites.
Barracuda
This protection and security vendor has bought Sonian for an undisclosed sum. Sonian is a private company providing cloud-archiving products.
BJ Jenkins, Barracuda' CEO and president, said: "The Sonian platform will enable us to continue to drive differentiation and leadership as customers move to Office 365. Further, we believe there is an opportunity to integrate Sonian's analytics and AI with our data protection portfolio, which, combined with our leading security solutions, provides a more complete solution to the market."
We're told that includes:
It looks like a neat add-on tech buy for Barracuda. Crunchbase says Sonian's total funding is $50.8m via three VC rounds and debt financing.
Unless Sonian was in trouble we'd expect Barracuda to be paying north of $100m and be doing so in cash and shares.
Toshiba and flash
Last month Toshiba said it would raise its investment in TMC (Toshiba Memory Corporation) and therefore the Yokkaichi 3D NAND fab (Fab 6) in fiscal 2017 from ¥330bn to ¥400bn ($3.5bn). Now it has decided to increase it further to ¥600bn ($5.2bn) by bringing forward part of the planned fiscal 2018 investment.
The investment ramp means TMC will place equipment orders for fab 6 at Yokkaichi Operations in FY17, not FY18 as previously planned. This will include deposition and etching machinery.
Demand for 3D flash is surging with it needed for SSDs and smartphones. Tosh expects demand to rise throughout 2018 and beyond.
TMC has asked SanDisk (WDC), its collaborator in joint ventures at the plant, whether it intends to jointly participate in the investment.
WANdisco
The UK-based replicator product company WANdisco has agreed a non-exclusive OEM deal with Virtustream, Dell Technologies' public cloud business, to sell WANdisco's Fusion product as an embedded replication product for hybrid cloud. Virtustream will use WANdisco Fusion as an S3 object to S3 object active/active replication platform worldwide.
Fusion will be sold as a standard Virtustream product covering on-premises and cloud environments.
WANdisco is going from strength to strength.
Shorts
ioFABRIC Vicinity is a multi-site, multi-cloud data fabric for data protection and availability. Vicinity keeps snapshots for quick restoration to a previous state by promoting one to be the current instance of a volume. For protection against site disasters, Vicinity offers SnapCopy which sends a copy of all data to a remote location. Using an absorb feature, geographically remote SnapCopys can be used to restore local operations in seconds.
OwnBackup, a Software-as-a-Service (SaaS) data backup and recovery vendor, announced the availability of its Winter 2018 release with tightened SaaS data backup and recovery security with greater control and access, and improved backup and recovery performance.
Sphere3D's Overland-Tandberg unit announced the availability of LTO-8 in its NEO Series product line of tape automation and tape drive products.
Customers
EDF has installed Scality RING object storage as its back-end storage, replacing a legacy tape-based storage system, which was plagued by bouts of day-long downtime. Scality beat EMC Isilon and IBM Spectrum Scale. More info here.
LG Electronics Italia has bought a Syneto HYPER 3100 all-in-one hyper-converged platform with built-in Disaster Recovery (DR), and has reduced admin time by five hours per week from 21 hours, and lowered recovery time objective (RTO) from 21 hours to just under 15 minutes. ®