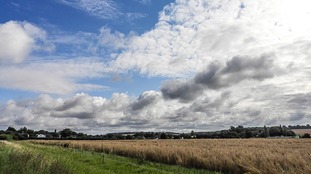 This evening and tonight:
Some evening sunshine is likely for many, and showers will die away later in the night. With clear spells overnight it will also become fresher. Some mist patches are possible by dawn with light variable winds. Minimum temperature 10 deg C (50 deg F).
Sunday:
Mainly dry, and often sunny, but with possible isolated light showers. After a cool start, summer warmth will return for many, although with fresher afternoon coastal breezes developing in places. Maximum temperature 21 deg C (70 deg F).
Outlook for Monday to Wednesday:
Often dry, sometimes sunny on Monday, then occasionally heavy rain during evening and night. Rain will clear to sunshine and showers on Tuesday. Mainly dry, sunny on Wednesday.
It'll be a mostly dry dry with sunny spells, although the possibility of a light shower later.
Early cloud will lift and break up to leave a dry day for most with good spells of sunshine. Feeling warm.